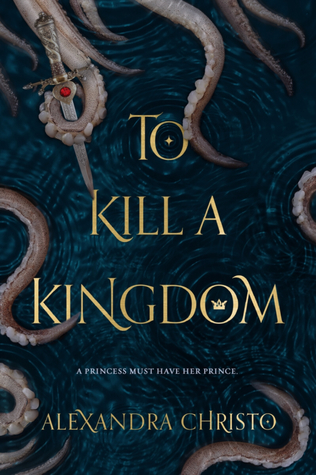 Heirs were easy things to make, and my mother was the Sea Queen first and nothing second
Princess Lira is siren royalty and the most lethal of them all. With the hearts of seventeen princes in her collection, she is revered across the sea. Until a twist of fate forces her to kill one of her own. To punish her daughter, the Sea Queen transforms Lira into the one thing they loathe most—a human.




The ocean is the only place Prince Elian calls home, even though he is heir to the most powerful kingdom in the world. When he rescues a drowning woman in the ocean, she's more than what she appears. She promises to help him find the key to destroying all of sirenkind for good—But can he trust her?
* * * *
4 / 5
To Kill A Kingdom absolutely lived up to the hype - and I'm not even fond of The Little Mermaid! Ocean inspired fantasy novels are typically not my cup of tea at all, but with all the buzz, I couldn't help but try this one up. It was absolutely a lesson in stepping (or reading) outside of my comfort zone from time to time, because this novel is a gem!
"So may hearts. You'll soon run out of room to bury them all." I lick my lips. "Maybe," I say. "But a princess must have her prince"
Loosely based on The Little Mermaid, To Kill a Kingdom pumps up the volume with a load of viciousness. Princess Lira is a siren, a part-human and absolutely monster mix that sings men to their deaths. She's vicious and unforgiving and I loved her. When a mix of events culminates in her killing one of their own, Lira is turned human by her mother, the Sea Queen. On the other tide, Prince Elian loves the sea and murdering the sirens that hunt his people. Putting aside his princely duties, Elian captains a ship and a crew that adores him. I reckon the best thing about this book is the way you really get both of their cultures - one moment I was rooting for Lira standing up to her mother, keeping the hearts of princes under her bed, and the next page I was grieving for those Elian had lost to the sea and her monsters.
I know that I should tell him that it's the land that steals away who I am and the sea that brings me back
When Elian pulls Lira out of the sea, he doesn't quite trust her. I was really interested to find out how Christo would write the whole "I'm your enemy and I need your heart" to "You are the human love of my life" thing, and I was not disappointed. There's lots of sass, lots of wit, and lots of angst, but none of it feels overdone. Again, I loved the POV swapping, as we see how each characters see the other, flipping from hero to villain, murderous to suspicious with each chapter (although my copy didn't have chapter headings, so sometimes it was like woah what's going on here).
So, why not five stars? I've sung this book's praises, but I have this odd sense of uncertainty throughout the book that made me feel a bit uncomfortable. I was never quite sure where the plot was going - I expected some sort of war theme, or diplomatic ideas themed with sword fighting, but instead we got some sort of jewellery and teleporting weirdness. Then there was the interactions between Lira and Elian - at times it was definitely awesome - but there was this rushed and awkward (and not in the cute way) romance. I wasn't really digging it.
To Kill a Kingdom was an amazing retelling that I think actually improved on the Disney film. Packed full of violence and myth and treachery and witty banter, this is definitely one to give a shot!
My thanks to Netgalley, the publisher, and the author for an ARC of this book!