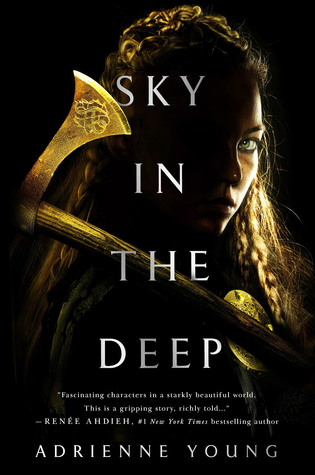 "Ond Eldr." Breathe fire.
Raised to be a warrior, seventeen-year-old Eelyn fights alongside her Aska clansmen in an ancient rivalry against the Riki clan. Her life is brutal but simple: fight and survive. Until the day she sees the impossible on the battlefield—her brother, fighting with the enemy—the brother she watched die five years ago.





Faced with her brother's betrayal, she must survive the winter in the mountains with the Riki, in a village where every neighbor is an enemy, every battle scar possibly one she delivered. But when the Riki village is raided by a ruthless clan thought to be a legend, Eelyn is even more desperate to get back to her beloved family.
* * * * *
5 / 5
Sky in the Deep features my favourite kind of woman -
the warrior woman, the woman with a sword and an axe and a glare that could shatter empires
. Eelyn is tough, bitter, discerning, and sensitive upon occasion. She is raised in the pseudo-viking Aska Clan, bitter rivals to the Riki people with whom they meet in battle every five years. Five years ago, Eelyn's brother Iri died on the battlefield, leaving her and her father alone; today she stands shield to shield with her friend when she encounters a ghost on the bloody field.
I tried to remember who I was. Strong. Brave. Fierce. Sure. I tried to summon her to me - that Eelyn who would choose her people over anything else
Captured by Iri and his new brother Fiske, Eelyn is taken as a slave to the homes of the Riki. Whilst Sky in the Deep starts strong with heavy action, this middle section is rather slow but I found it very beautiful. Others may be bored by the slow building up of relationships, of Eelyn interacting with the Riki village people and weaving baskets, but
I found Young's writing so delicate and enveloping
that I hardly cared that we hadn't seen a knife for fifty pages. I also appreciated how much research seemed to have gone into creating this Viking-inspired world - I'm hardly an expert on Viking village culture and lifestyle, but it definitely felt authentic.
Then the violence comes thundering back and the
emotion
in this book is incredible. The battle scenes were well-written, the tempo excellent, and the plot managed to surprise me - I wasn't entirely sure where it was headed, and I was intrigued. I must say I wasn't the world's biggest fan of the romance, but I appreciated that it was subtle and as tasteful as it could have been. I much preferred Eelyn's relationships with her family - her newly undead brother, her father, her shield-sister - and how her mindset changed and developed.
I adored how myths of Young's creation
were woven into the story, how Eelyn's devotion to her god was explored.
"Vegr yfir fjor." Honour above life.
Steeped in history and myth and blood, Sky in the Deep was a beautiful novel that I thoroughly recommend!
My thanks to Netgalley, the publisher, and the author for an ARC of this book!