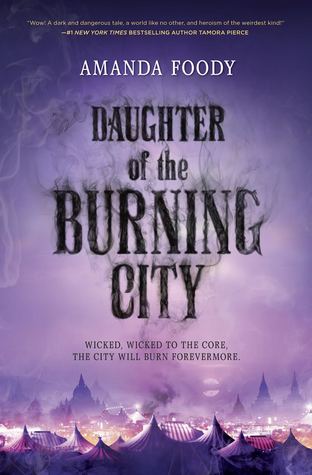 We are putting on a show, but I had always believed that was because Gomorrah is a city of performers. Turns out, we are a city of liars
Sixteen-year-old Sorina has spent most of her life within the smoldering borders of the Gomorrah Festival. Yet even among the many unusual members of the traveling circus-city, Sorina stands apart as the only illusion-worker born in hundreds of years. Her creations are her family, and together they make up the cast of the Festival's Freak Show.




But no matter how lifelike they may seem, her illusions are still just that—illusions, and not truly real. Or so she always believed…until one of them is murdered.
* * *
3 / 5
Daughter of the Burning City was a bold attempt to break out into the competitive YA circus-themed novel genre. I have read and adored The Night Circus and enjoyed last year's breakout novel Caraval, so I was looking forward to seeing what fresh ideas Foody had brought to the circus. And it was definitely novel, full of weirdness, but I think it was a bit too weird for my tastes. Definitely lots to enjoy here for the right reader though!
"I am Sorina Gomorrah, daughter of this city, and this is my destiny"
Sorina is the daughter of the proprietor of the Gomorrah Festival, a moving, constantly on fire circus that is more like a city, complete with uptown and downtown areas. Sorina's a pretty unique girl - she's has no eyes but can also somehow see (I never really got this, just how I never really got how Gomorrah is always smouldering, a lot of this book is a bit unexplained) and she's also an illusion-worker, the only one in living memory, and her creations are her bizarre family. Alongside her family, Sorina runs the Festival's Freak Show. I loved her creations, they were all so unique and I felt such attachment to them. Which made it hurt all the more when they started being killed off.
So on the one hand we have emotional, gritty Sorina searching for answers about her family. Her father seems to think that this is tied up with an Up-Mountainer (are they really up a mountain? who knows!) plot to murder someone important. Her new friend Luca, a gossip-worker and man of mysterious talents, seems to think otherwise. There's a lot going on here, and it's all definitely fun and action-packed, but it never really made much sense to me. Daughter of the Burning City has such an ambitious plot and worldbuilding packed into four hundred pages, that it does seem a little light on the details.
"At what point do my requests stop being opportunities to teach me some kind of lesson?"
I did like all the ideas in this book! You've got all these imaginative illusions of Sorina, the interweaving plots, the themes of persecution and being different, of family love and duty. There's also a fair smattering of tastefully done sexual diversity - bisexuality, a lesbian, and an asexual guy. Which is always nice. I did manage to guess the murderer pretty early on, so maybe there was a bit of lack of tension at the end for me.
Overall, I loved the wholesome illusion-family aspect. That was absolutely my favourite part of the book! Maybe the plot and the background was a bit confused, but Daughter of the Burning City was fun and ambitious, and I think Foody has a lot of potential as a writer!
My thanks to Netgalley, the publisher, and the author for an ARC of this book.