Happy Easter!


March Round Up, 2018

I ploughed through some really awesome books this month, from the highly anticipated conclusion to the Illuminae Files, Obsidio, to some banging ARCs like Sky in the Deep and To Kill a Kingdom. I didn't read a single book under three stars this month - truly an awesome March!
I'm still digging my way through the audiobooks of Brandon Sanderson's epic Stormlight Archive, ready to get my grubby hands (or ears, I guess) into Oathbringer. On top of that I'm trying to get my Netgalley TBR pile under control and to revise for my end of term university exams - I always seem to be busy this year!
Spotlight ARC of the Month:
Adrienne Young
* * * * *
5 / 5
"Ond Eldr. Breathe Fire."
Sky in the Deep features my favourite kind of woman - the warrior woman, the woman with a sword and an axe and a glare that could shatter empires. Eelyn is tough, bitter, discerning, and sensitive upon occasion. She is raised in the pseudo-viking Aska Clan, bitter rivals to the Riki people with whom they meet in battle every five years. Five years ago, Eelyn's brother Iri died on the battlefield, leaving her and her father alone; today she stands shield to shield with her friend when she encounters a ghost on the bloody field.

Captured by Iri and his new brother Fiske, Eelyn is taken as a slave to the homes of the Riki. Whilst Sky in the Deep starts strong with heavy action, this middle section is rather slow but I found it very beautiful. Others may be bored by the slow building up of relationships, of Eelyn interacting with the Riki village people and weaving baskets, but I found Young's writing so delicate and enveloping that I hardly cared that we hadn't seen a knife for fifty pages.

Then the violence comes thundering back and the emotion in this book is incredible. I must say I wasn't the world's biggest fan of the romance, but I appreciated that it was subtle and as tasteful as it could have been. Steeped in history and myth and blood, Sky in the Deep was a beautiful novel.
Official Synopsis:
Raised to be a warrior, seventeen-year-old Eelyn fights alongside her Aska clansmen in an ancient rivalry against the Riki clan. Her life is brutal but simple: fight and survive. Until the day she sees the impossible on the battlefield—her brother, fighting with the enemy—the brother she watched die five years ago.


Spotlight Read of the Month: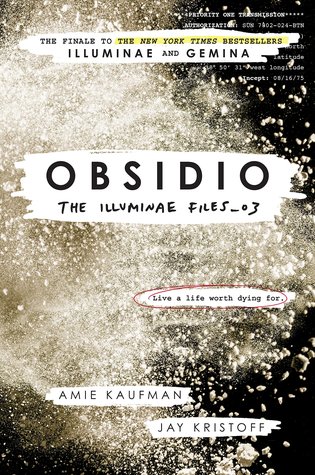 Obsidio (The Illuminae Files #3)
Amie Kaufman
Review
* * * * *
5 / 5
"EVERY STORY NEEDS ITS MONSTER"
I'm going to tentatively say (because I haven't read Illuminae and Gemina since they were released) that this was better than Gemina but not quite as good as Illuminae. Because hot damn there was nothing like reading Illuminae for the first time - not knowing how amazing and brutal and well put together and hard hitting and tear-worthy it would be. Now you expect to feel tearful over characters that got like 2 lines, and to expect dead favourites and mutinies and deaths and sacrifices and AIDAN. But still totally and utterly amazing.
This one introduces a new pair of characters - Asha Grant and Rhys Lindstrom - but they don't really get that much page time because Obsidio (what the heck does the title mean? the only thing I can think of is like obsidian, the rock?) is shared between Kady, Ezra, Hanna, Nik, Ella, and now Asha and Rhys. They're still pretty cool and tragically in love though. Obsidio is pretty much of the same format as the other two books - it's got the countdowns and the cool graphics and the turn the book around in your hands to try and read the words pictures
The Illuminae Files is a masterpiece and Obsidio is a cracking end.
Official Synopsis:
Five years ago, Corin Cadence's brother entered the Serpent Spire — a colossal tower with ever-shifting rooms, traps, and monsters. Those who survive the spire's trials return home with an attunement: a mark granting the bearer magical powers. According to legend, those few who reach the top of the tower will be granted a boon by the spire's goddess.





He never returned.





Now, it's Corin's turn. He's headed to the top floor, on a mission to meet the goddess.


Other Reads:
* * * * Final Draft, Riley Redgate
After loving Redgate's last book, Noteworthy, Final Draft is another dazzling and ambitious book. Featuring a girl that loves to write, Redgate examines how much we give to develop our passions and how much it can cost us.
* * * * The Tethered Mage (Swords and Fire #1), Melissa Caruso - Review
A Venetian inspired fantasy novel featuring hefty amounts of political skulduggery - one of my favourite things. It might be a little low on the action despite featuring a heavy-hitting Fire Warlock, but when the fights are there, they're good.
* * * * To Kill a Kingdom, Alexandra Christo
A vicious retelling of The Little Mermaid, To Kill a Kingdom completely blew past my general dislike of stories featuring the underwater world with a cast of violent sirens, a suave prince, and a rag-tag pirate crew.
* * * Daughter of the Burning City, Amanda Foody
Likened to Caraval and (the much better) The Night Circus, Daughter of the Burning City once more transports us to the magical circus setting. Intriguing, well-written, but also completely wacky, this was an ambitious book that didn't quite hit the mark for me.
* * * The Queen's Rising, Rebecca Ross - Review
I mostly bought The Queen's Rising because of the absolutely gorgeous cover, but I stayed because I was intrigued by the premise: Brienna is a student of knowledge, about to graduate, and she's inherited the magical memories of her ancestor which will prove vital in the winning of a war.
* * * The Thief (The Queen's Thief #1), Megan Whalen Turner - Review
This book has a lot of rave reviews, but to be honest it's not that great. I gave it three stars because I enjoyed how it reminded me of reading slightly bad fantasy novels in the 2000s - character who is weirdly good at something with little explanation, a band of sidekicks, bizarre worldbuilding, full of myths and legends, and totally odd/implausible plot twists.