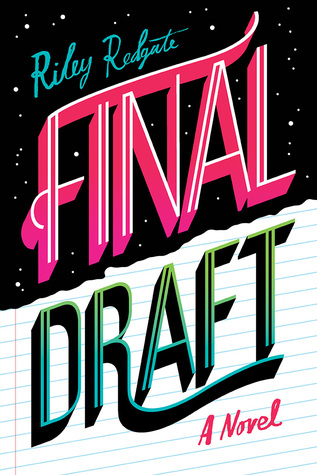 She bowed under the heaviness of the hours she hadn't lived yet
The only sort of risk 18-year-old Laila Piedra enjoys is the peril she writes for the characters in her stories: epic sci-fi worlds full of quests, forbidden love, and robots. Her creative writing teacher has always told her she has a special talent. But three months before her graduation, he's suddenly replaced—by Nadiya Nazarenko, a Pulitzer Prize–winning novelist who is sadistically critical and perpetually unimpressed.

At first, Nazarenko's eccentric assignments seem absurd. But before long, Laila grows obsessed with gaining the woman's approval. Dr. Nazarenko has led Laila to believe that she must choose between perfection and sanity—but rejecting her all-powerful mentor may be the only way for Laila to thrive.
* * * *
4 / 5
When I finished Final Draft my main emotion was sad. Redgate portrayed depression and grief so realistically, it made me feel a bit empty inside, which is how I know an author has hit the nail on the head. This isn't really a happy book, but it's definitely a great one.
She wanted to pierce the furthest frontier of her ability
Laila Piedra is half-Ecuadorian, half-French Canadian, and entirely full of passion for writing. Her creative writing teacher has been her biggest fan, but now he's ill and been replaced by a Pulitzer Prize winner. Nazarenko isn't so amazed with Laila's work, and judging from the excerpts included between the chapters, you can realistically see why. Laila's writing is sort of immature, the product of being eighteen with little life experience. When Nazarenko suggests that this is the reason for her low grades, Laila decides to throw herself into life and all it's experiences, to the detriment of her relationships and her mental health.
Redgate perfectly portrays being eighteen and realising the world is wider than you had ever known. The sense of introspection, of your friends drawing apart, of wanting to put yourself and your work "out there", and realising that maybe you aren't quite as good as you thought you were. It's sad and poignant but also kind of awesome. Laila dives into a world of alcohol and parties and drugs and sexuality and re-navigating her friendships (particularly with her friend Hannah), as well as tackling grief, loss, and mental health problems.
Her inexperience didn't feel charming or virtuous, like she was some good-girl persona from a movie. It felt furious and heated, humiliating and childish
Final Draft is my second Redgate novel and maybe I didn't love it quite as much as Noteworthy, but it still had that same flavour. I loved the writing style, poignant and relatively simple. Everything was emotional and also super diverse. I did find all the inclusion of Laila's writing, the development of a show the character's all love, the emails with her old writing teacher, all the fangirling - it was either boring or a bit weird and cringy. But that's my only real complaint here.
Overall, Final Draft is a a touching, thoughtful, and emotional read. It's very introspective and you spend a lot of time in Laila's interesting little head.
My thanks to Netgalley, the publisher, and the author for an ARC of this book!