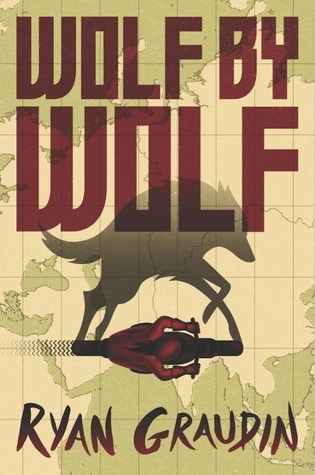 The wolves of war are gathering. They sing a song of rotten bones
The year is 1956, and the Axis powers of the Third Reich and Imperial Japan rule. To commemorate their Great Victory, Hitler and Emperor Hirohito host the Axis Tour: an annual motorcycle race across their conjoined continents. The victor is awarded an audience with the highly reclusive Adolf Hitler at the Victor's Ball in Tokyo.




Yael, a former death camp prisoner, has witnessed too much suffering, and the five wolves tattooed on her arm are a constant reminder of the loved ones she lost. The resistance has given Yael one goal: Win the race and kill Hitler. A survivor of painful human experimentation, Yael has the power to skinshift and must complete her mission by impersonating last year's only female racer, Adele Wolfe.
* * * *
4 / 5
Having devoured and thoroughly enjoyed Graudin's most recent masterpiece -
Invictus
- I finally got around to picking this one up. The synopsis is interesting: Hitler won the war, there's a motorcycle race, and a young shape-shifting Jewish girl who wants to kill Hitler. Once again, I'm reminded of a Doctor Who episode (perhaps this is where Graudin gets her inspiration?), but surprisingly all these weird elements combine really well into a cracker of a book.
"These were the names she whispered in the dark. These were the pieces she brought back into place. These were the wolves she rode to war"
Yael was a prisoner at a concentration camp where she was chosen to be a subject for an experiment; given hundreds of injection, the colour is bleached from Yael's hair and skin until she feels like she is fading into nothing. A surprising side-effect of this is that she is able to change her face and skin tone to mimic any woman. Using this ability, Yael escapes the camp and wanders into the arms of the resistance, where she is raised for many years until she is needed for a mission.
The Axis Tour is a motorcycle race across Europe, Asia and North Africa in honour of Hitler and Emperor Hirohito. Ten racers from each empire and the winner is awarded an audience with Hitler at the Victor's Ball; Yael's job is to impersonate the only female victor, last year's Victor Adele Wolfe (and to learn how to race a motorbike competitively...). Complicated enough? Not quite. Adele's brother Felix has entered the race via bribery to keep an eye on his sister and Luka hints at a past between him and Adele that isn't in any file that Yael has read. Between trying not to get killed and not being discovered in her trickery, Yael has got her hands full.
"I'm tired of fixing things that always break"
Yael is a great character - full of sorrow, confusion, duty, and anger - but she's made fantastic by the great narration. The book is in third person but it really gives you a great insight into this girl, her life ruined by Hitler and the Axis Powers, a girl who isn't sure what she is and what she is becoming, who knows that her only purpose in life is now, in this race. The writing won't suit everyone, but it definitely suited me.
I really enjoy the occasional alternative history novel and WWII is often a popular choice, but I think Graudin really managed to do something different. Between the magical realism and the motorcycle grand tour, it really was unlike anything I had ever read and it had a bit of everything: a devious plot, a resistance, a girl trying to pull off a heist, mystery, action, and a sprinkling of romance. Luka and Felix are the other main characters of the book and I really felt for both of them: Felix just wants his sister to come home safe and is confused by the person she seems to have become; Luka is stuck in the past, in a history shared between him and Adele Wolfe, and can't quite square this girl in front of him with the winner of last year's race but he knows he likes what he sees.
Between the plot, the setting, the characters, and above all else, the emotion, Wolf By Wolf is a fantastic, hard-hitting book. Definitely recommended to fans of alternate history, magical realism, and a touch of mystery.