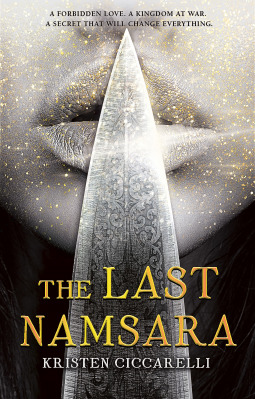 "Asha wore her scar like a crown"
In the beginning, there was the Namsara: the child of sky and spirit. But where there is light, there must be darkness—and so there was also the Iskari. The child of blood and moonlight. The destroyer. The death-bringer.

These are the legends that Asha, daughter of the king of Firgaard, has grown up learning in hushed whispers, drawn to the forbidden figures of the past. But it isn't until she becomes the fiercest, most feared dragon slayer in the land that she takes on the role of the next Iskari—a lonely destiny that leaves her feeling more like a weapon than a girl.




Asha conquers each dragon and brings its head to the king, but no kill can free her from the shackles that await at home: her betrothal to the cruel commandant, a man who holds the truth about her nature in his palm. With the help of a secret friend—a slave boy from her betrothed's household—Asha must shed the layers of her Iskari bondage and open her heart to love, light, and a truth that has been kept from her.
* * * *
4 / 5
The Last Namsara grabbed me from the first scene: Asha calls a dragon forth with a forbidden story and slays it, bringing it's head home to her father, the king. Any good book could probably get better with the addition of dragons, but it's hard to get a fresh perspective on them, though a few have managed it - Seraphina springs to mind. The Last Namsara manages it. It has a couple of flaws, but is overall a stunning debut novel and I can't wait to snag the sequel.
"Asha lured the dragon with a story"
The telling of stories is forbidden. As a young child, Asha used to sneak out of the city to speak them to the skies and the dragons answered. The First Dragon, Kozu, listened to her stories, but when she denied to tell him any more he burnt her to near death and set the city on fire. Ever since, Asha has been paying penance for her sins - her stories summoned the dragons and their fire and she must make amends to her people, to her city, and to herself - by taking on the role of the Iskari from myth and hunting the dragons into extinction. Further, her father promised her hand in marriage to his commandant of the army Jarek, a man full of cruelty and a thirst for power. He looks at Asha like she is something to be owned, to be dominated, and in desperation Asha strikes a deal with her father: he will call off the wedding if she brings him the head of Kozu, The First Dragon.
I loved Asha. Telling stories killed her mother and telling stories killed her city and Asha hates herself for it, so much so that she accepts the role of Iskari, the destroyer and the death-bringer, and makes it who she is. She pursues her prey like it is the only thing worth living for and spends little time thinking about society, about the quarrels her people have with other kingdoms over the morality of slavery, amongst other issues. She is angry and dutiful and dangerous and vulnerable and afraid of Jarek and of her future; there is so much emotion in this girl, but she is almost always sensible and reasonable. Her brother, the heir, Dax is pretty much her opposite: air-headed, foolish, concerned with morality, his actions swing between the result of utter stupidity and far fore-thought.
"Life taker," they said. "Death bringer. Iskari."
The romance is a bit weird - and not just because I'm not often a fan of romance dominating my books - in that Asha's love interest is a slave that doesn't have a name for a good half of the book. It didn't really sit comfortably with me that she could entertain ideas of liking this man, who under the laws of their society is not allowed to look her in the eyes, when she didn't even know his name for half the time! It's odd in other respects to - for a good chunk of the book it doesn't seem like he will be a love interest at all, just a way for Asha to re-evaluate how her father and her society treats people badly and how slavery is wrong and all that, but then they go from zero-to-obsessed and willing to get beaten for each other real fast.
Aside from the romance, Torwin, the slave, is a great character. Unlike many YA male romance-interests, Torwin is gentle but stubborn, he's willing to walk away from "the great fight", and it would have been nice to watch a more natural relationship blossom between the two, one not trapped by their roles of slave and social-outcast-but-nobility. Talking about side characters, Ciccarelli doesn't seem to have quite struck the right balance: you want side characters to populate your book, to give a sense of breadth to the narrative and to be well-written, but you don't want them to dominate the page. For example, Asha has a cousin called Safire, a girl who gets quite a lot of backstory and reader sympathy initially but whose actions and presence are barely noticeable beyond the first few chapters.
The Last Namsara bears the marks of a debut novel from the fairly obvious plot twist at the end to the slight stumbles in pacing and plot, but overall it has so much to love: dragons, storytelling and a unique magic, a fantastic main character in the form of a dragon-hunter, and a great narrative voice. Woven into the plot are stories and they work really well, giving this book a unique character.
My thanks to Netgalley, the publisher, and the author for an ARC of this book