So I finally read a Ryan Graudin book - just not the one I've owned for a year...


November Round Up

Despite my claim last month, November has become the month where I have read the least books this year! This month I have read a grand total of five books + around forty articles for my philosophy coursework. The good news is that I absolutely smashed the coursework, so now I can get back into a set of a good books. But besides being busy, I've also just been in a general book slump - at the moment I am slogging my way through The Rogue Queen, the last book in The Hundredth Queen trilogy by Emily King, and it's taking me a while - and so I've been channeling lots of my usual reading time into running.
I've spontaneously entered a 10km trail running race, which will be my first properly organised run in December, just a few weeks before I run a 10 mile road race! These runs are part of my training plan to get in half-marathon shape by March, but all this running and an increase in my university workload has unfortunately resulted in less reading time and less time to write reviews :( But despite this, I've read some absolute crackers this month! So on with the show...
Spotlight ARC of the Month:
* * * * *
5 / 5
"Time flies when you're plundering history"
Farway Gauis McCarthy (what a name and a half) was born outside of time; his mother is Empra McCarthy, a time-voyager whose job was to record the past, who gave birth to him on the time-ship Ab Aeterno in the space between time. But in the present Far is alone with his cousin Imogen since their mother went on a voyage to the past and never returned and he is unaware that his father is a gladiator from Ancient Rome. Far is poised to become a Recorder himself, about to graduate from the Academy when he fails his final simulation exam when Marie Antoinette blows his cover by winking at him.
Proud, confident Far whose only dream is to explore the past is cut adrift, for the only way into history is through the Academy but he is barred from that track forever. We cut forward a few months to find Far the captain of an illegal time-ship the Invictus plundering treasures from history that no one would miss. Invictus evolves from a heist novel to one involving twists, paradoxes, a weird amount of mathematics, and the entire span of time and space, and it's an absolutely amazing book.
Official Synopsis:
Farway Gaius McCarthy was born outside of time. The son of a time-traveling Recorder from 2354 AD and a gladiator living in Rome in 95 AD, Far's birth defies the laws of nature. Exploring history himself is all he's ever wanted, and after failing his final time-traveling exam, Far takes a position commanding a ship with a crew of his friends as part of a black market operation to steal valuables from the past.




But during a heist on the sinking Titanic, Far meets a mysterious girl who always seems to be one step ahead of him. Armed with knowledge that will bring Far's very existence into question, she will lead Far and his team on a race through time to discover a frightening truth: History is not as steady as it seems.


Spotlight Read of the Month: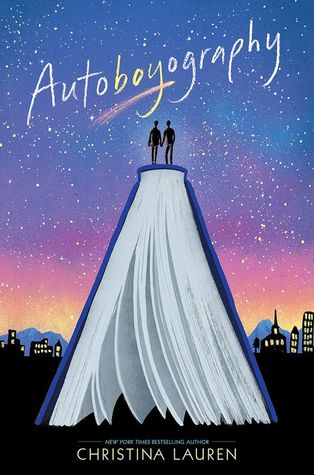 Autoboyography
Christina Lauren
Review
* * * *
4 / 5
His smile ruins me
Tanner moved from a large city where he was an out and proud bisexual to a small Mormon town a few years ago, where his parents recommended that he keep his sexuality on the down low. Not even his best friend Autumn knows that he likes guys, but Tanner hasn't found it all that difficult to keep it under wraps since there isn't exactly an overabundance of attractive gay men in rural Utah. That is until Tanner takes the Seminar at the prompting of Autumn, a class in which students write an entire book over the course of the class, lead by last year's writing prodigy who went on to get his fantasy novel published. Sebastian Brother is attractive, kind, and firmly, absolutely, Mormon, a religion which tentatively accepts same-sex attraction as an actual thing, but will excommunicate any member that acts upon such attraction. Unfortunately, Tanner has never fallen for anyone harder.

A sweet and heartbreaking gay romance novel with a cleve titular pun, Autoboyography is a great romance novel that was thoughtful, sweet, deal with some difficult concepts, the writing flowed and it was original, but it didn't have that long term impact on me that a five star book really needs.
Official Synopsis:
Writing a book in four months sounds simple. Four months is an eternity.





It turns out, Tanner is only partly right: four months is a long time. After all, it takes only one second for him to notice Sebastian Brother, the Mormon prodigy who sold his own Seminar novel the year before and who now mentors the class. And it takes less than a month for Tanner to fall completely in love with him


Other Reads:
* * * If My Dogs Were a Pair of Middle-Aged Men, Matthew Inman - Review
This book took me a few minutes to read and the content got pretty old fast - it's your typical dog-related humour comics but replacing the dogs with two middle aged men. Yeah, it's kind of innovative and funny at first, but then looking at drawings of middle-aged men licking each other's butts is a bit bizarre.
* * * Ruined (Ruined #1), Amy Tintera
Emelina's parents have been murdered and her sister kidnapped. She's going to get her back by marrying the prince of the enemy and forcing the truth out of him. Fair enough. This book follows classic fantasy tropes, but was a bit too lacking for me to really get my teeth into.
* * The Fire Queen (The Hundredth Queen #2), Emily R. Queen
This one reminded me a lot of Frostblood: lots of stuff going on, but I had very little emotional reaction to any of it throughout. The Fire Queen mimics a lot of the plot from the previous book as well, which didn't help matters.