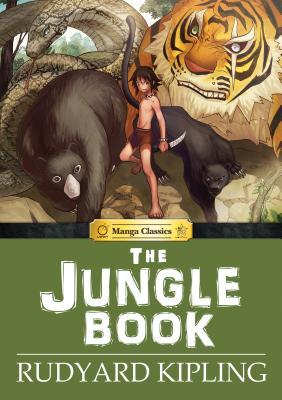 Heavily influenced by his childhood in British-ruled India, Rudyard Kipling created some of the most well-read children s stories in Western Culture. Book One of The Jungle Book(s) includes Mowgli s Brothers, the story of Mowgli, the abandoned man-cub who was raised by animals in the Indian jungle, Rikki-Tikki-Tavi the heroic mongoose, and Toomai of the Elephants, the tale of a young elephant-handler, and in The White Seal, we meet Kotick, a rare white-furred northern fur seal as he searches for a home where his family will not be hunted by humans.
* * * *
4 / 5
I picked up a copy of the The Jungle Book, manga edition on a whim and I was very pleasantly pleased with it. I have read my fair share of manga in my youth and this book follows the traditional format of being read right to left (a handy guide at the back for those that have never read a manga), as well as having loving, classically manga illustrations. As far as I can tell, The Jungle Book follows Rudyard Kipling's original seven stories very closely, even integrating some of the shorter poems into the artwork.
Whilst I am familiar with the stories that make up the typical Jungle Book films, those of Mowgli, Baloo, Bagheera and Shere Khan, I did not know that the original Jungle Book also included four further stories: The White Seal, Rikki-Tikki-Tavi, Toomai of the Elephants, and Her Majesty's Servants. My favourite of these was Rikki-Tikki-Tavi, a story about a mongoose defending a human family from a pair of snakes. So as well as being visually lovely, I also got culturally exposed to something I wasn't previously aware of. Bonus!
The artwork, on the whole, is lovely. Most of the animals, particularly Shere Khan and the seals, looked fantastic. Others, like Bagheera and the wolves looked a little weird and too cartoony compared to others, like the monkeys, which is why I am knocking off a star. The humans are classic manga style - pointy chins and big eyes - which can be a plus or not depending on your personal preference. The book also felt a bit long, but this is the price of faithfully following the original stories! I have no complaints about the pacing or the storylines - as far as I am aware they are good representations of Kipling's writings.
On the whole, a good collection for those that have read the original works and want to experience them in a new form, or for those who have no experience of The Jungle Book. I can certainly see children enjoying this profusely.
My thanks to Netgalley, the publisher, and the artist for an ARC.