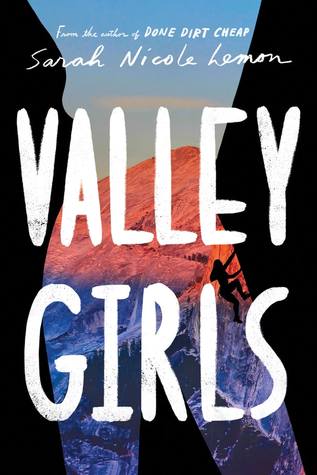 They looked like they had always been and would always be in Yosemite
Determined to make up for her screw-up and create a stable new home for herself, Rilla charms her way into a tight-knit group of climbers. She sets her sights on climbing El Capitan, one of the most challenging routes in Yosemite, and her summer becomes one harrowing and ecstatic experience after another.
But becoming the person Rilla feels she was meant to be jeopardizes the reasons why she came to Yosemite—a bright new future and a second chance at sisterhood. When her family and her future are at odds, what will Rilla choose?
* *
2 / 5
I really, really wanted to love Valley Girls - it promised rock climbing adventures featuring a stubborn, ill-advised teen set against the stunning background of Yosemite. Valley Girls delivered in the sense that the rock climbing aspects were detailed and immersive and the scenery sounded breathtaking and filled me with wanderlust. It failed in that the main character, Rilla Skidmore, is exceedingly annoying with barely any redeeming and endearing qualities.
All around her, the air seemed cavernous and wide. You're alone. All alone, it breathed.
Rilla's mother sends her packing from West Virginia to live with her older sister Thea, a park ranger in Yosemite after some incident involving a boyfriend and a punch up in a car park that is never explained. Understandably, Rilla isn't that pleased about leaving her immediate family, friends, and home to go and live on a national park with the sister that left her a few years ago. I liked Thea: a young gay woman who struggled with her mother and seemed to have found some peace in Yosemite with her girlfriend, right up until she offers to take on her trouble younger sister who has no motivation to do anything but worry about Instagram and smoke weed.
Then there's Rilla. She's probably the most inconsistent character I've read about in a good few months. Essentially, there's three Rilla's:
Rilla Number One: Skives off school, makes friends with the local weed dealer, calls her ex-boyfriend six times a day, scrolls through Instagram all day thinking about how much better everyone else's life is, is rude to her sister, steals, and is exceedingly petty
Rilla Number Two: Decides that being a rock climber is literally the most glamorous thing ever and posting sexy pics of her climbing is sure to get her old friends running back to her, but simultaneously thinks that all the climber girls she has met hate her for virtually no reason and that, despite people telling her she's decent for a newbie, thinks she's a total failure
Rilla Number Three: Ambitious, motivated, works hard at odd jobs to get money for quality climbing gear so that she can tackle tougher climbs and be a good team member, offers to cook group meals and is generally quite a nice girl who you might actually be friends with
Now you would think that there is quite a clear progression her, a satisfying character arc from Rilla One to Two to Three. There's not. One page you are cheering Rilla on as she tackles an impressive route, envying her life a little as she eats sandwiches on top of a mountain range in one of the most beautiful places in the world, and the next she's throwing a literal tantrum, stealing, driving recklessly, and locking herself in her room. It's bizarre. If Rilla was someone I knew, I'd be seriously concerned between the delusions of grandeur and the acts of self-destruction.
Mountains do not care who you are, they will kill you all the same
Valley Girls does have a cool secondary cast between Thea and the rest of the climber girls, and I loved the climbing scenes - I would have particularly enjoyed it if the book had allocated more time to Rilla's climbing of El Capitan which gets shoehorned in at the end. Overall, Valley Girls drew me in with the premise of climbing but was let down by the unlikeable main character.
My thanks to Netgalley, the publisher, and the author for an ARC of Valley Girls