I hope you all had a wonderful Christmas/holidays!


December Round Up

I'll keep this one short and sweet because, as we all know, we are at the end of the year! And that means a yearly round up, featuring some questions asked and answered. I'm going to take a look at what I've done this year book-wise and hopefully feel quite good about myself, so keep your eyes out for a post like that in early January!
This month has gone pretty well - I got a small number of books for Christmas including the highly venerated
The Gentleman's Guide To Vice & Virtue
and Dan Brown's new book
Origin
. I've dug into a few of these whilst others I am leaving until 2018 :)
Spotlight ARC of the Month:
* * * *
4 / 5
"Asha wore her scar like a crown"
The telling of stories is forbidden. As a young child, Asha used to sneak out of the city to speak them to the skies and the dragons answered. The First Dragon, Kozu, listened to her stories, but when she denied to tell him any more he burnt her to near death and set the city on fire. Ever since, Asha has been paying penance for her sins - her stories summoned the dragons and their fire and she must make amends to her people, to her city, and to herself - by taking on the role of the Iskari from myth and hunting the dragons into extinction.
I loved Asha. Telling stories killed her mother and telling stories killed her city and Asha hates herself for it, so much so that she accepts the role of Iskari, the destroyer and the death-bringer, and makes it who she is. She pursues her prey like it is the only thing worth living for and spends little time thinking about society, about the quarrels her people have with other kingdoms over the morality of slavery, amongst other issues. She is angry and dutiful and dangerous and vulnerable and afraid of Jarek and of her future; there is so much emotion in this girl, but she is almost always sensible and reasonable.

The Last Namsara bears the marks of a debut novel from the fairly obvious plot twist at the end to the slight stumbles in pacing and plot, but overall it has so much to love: dragons, storytelling and a unique magic, a fantastic main character in the form of a dragon-hunter, and a great narrative voice.
Official Synopsis:
In the beginning, there was the Namsara: the child of sky and spirit, who carried love and laughter wherever he went. But where there is light, there must be darkness—and so there was also the Iskari. The child of blood and moonlight. The destroyer. The death-bringer.





Asha conquers each dragon and brings its head to the king, but no kill can free her from the shackles that await at home: her betrothal to the cruel commandant, a man who holds the truth about her nature in his palm. When she's offered the chance to gain her freedom in exchange for the life of the most powerful dragon in Firgaard, she finds that there may be more truth to the ancient stories than she ever could have expected. With the help of a secret friend—a slave boy from her betrothed's household—Asha must shed the layers of her Iskari bondage and open her heart to love, light, and a truth that has been kept from her


Spotlight Read of the Month:
The Female of the Species
Mindy McGinnis
Review
* * * *
4 / 5
"I am vengeance"
Alex Craft killed a man and she doesn't regret it. When the murderer and rapist of her older sister walked free, Alex took vengeance into her own hands but now she's afraid that she'll never quite fit into society, that it's safer to remain in this small town with her alcoholic mother for the rest of her life.

Alex and Peekay meet when they both volunteer at the local animal rescue centre, getting off to a great start when Peekay calls her Anna, the name of Alex's murdered and avenged sister. Alex and Jack meet it becomes clear that the two are in competition for the title of valedictorian: Jack needs it to get scholarships to go to college, but Alex doesn't care, and that interests Jack. These three teenagers are drawn together by Alex and at the heart of Alex is violence: she's not afraid to speak with her fists, but she is afraid of who, of what, she is becoming.
Official Synopsis:
Alex Craft knows how to kill someone. And she doesn't feel bad about it.





Three years ago, when her older sister, Anna, was murdered and the killer walked free, Alex uncaged the language she knows best—the language of violence. While her own crime goes unpunished, Alex knows she can't be trusted among other people. Not with Jack, the star athlete who wants to really know her but still feels guilty over the role he played the night Anna's body was discovered. And not with Peekay, the preacher's kid with a defiant streak who befriends Alex while they volunteer at an animal shelter. Not anyone.





As their senior year unfolds, Alex's darker nature breaks out, setting these three teens on a collision course that will change their lives forever.


Other Reads:
* * The Rogue Queen (The Hundredth Queen #3), Emily King - Review
The third volume in The Hundredth Queen series, the Rogue Queen does better than it's predecessor because it moves away from the "tournament" style plotline to try out an "epic war" vision, which wasn't that interesting but was more novel.
* * * * Wolf By Wolf (Wolf By Wolf #1), Ryan Graudin - Review
The synopsis is interesting: Hitler won the war, there's a motorcycle race, and a young shape-shifting Jewish girl who wants to kill Hitler. Surprisingly all these weird elements combine really well into a cracker of a book.
* * * Mandelbrot the Magnificent, Liz Ziemska - Review
Out of my normal reading genre, this is an odd, imaginative magical realism-involving biography of mathematician Benoit Mandelbrot. Peculiar but an easy, engaging read. I was never quite sure what was truth and fact and what was embellishment on the part of Ziemska.
* * * Everless, Sara Holland
Everless isn't that original but it has a killer premise: time is currency, extracted and bleed from an individual to turn into a coin. To pay off one's debts, one flirts with death as they bleed away their future. Literally.
* * * * Rosemarked (Rosemarked #1), Livia Blackburne
Soft and almost melodic, Rosemarked is a lengthy, slow-burn YA fantasy novel. Zivah is a gentle healer who must be quarantined due to a plague; Dineas is a young warrior who serves his people, the Shidadi, in resisting the onslaught of the Empire.
* * * * The Gentleman's Guide to Vice and Virtue, Mackenzi Lee
Henry Montague is a rake who like his drink and his ladies (and his boys) far too much for his father's approval. With his best friend Percy and younger sister Felicity, he undertakes one last hurrah to go on a Tour of the Continent.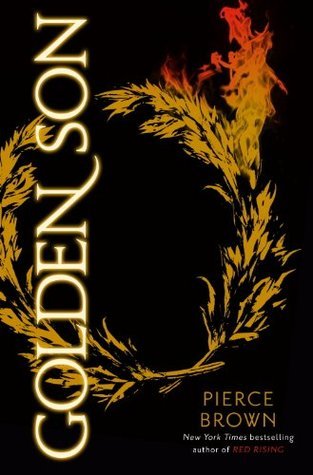 * * * * * Golden Son (Red Rising #2), Pierce Brown
Truth be told, this was my absolute favourite book of the month. It isn't feature above for two reasons: (i) it's a sequel and I would rather feature a first book in a series or a standalone, and (ii) I haven't written a review yet, ha ha. Regardless, Golden Son is everything Red Rising was but with a much greater scope: the battlefield has become space itself