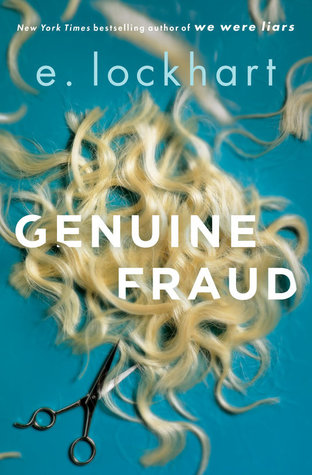 she didn't know if she could love her own mangled, strange heart
The story of a young woman whose diabolical smarts are her ticket into a charmed life. But how many times can someone reinvent themselves? You be the judge.




Imogen is a runaway heiress, an orphan, a cook, and a cheat. Jule is a fighter, a social chameleon, and an athlete. An intense friendship. A disappearance. A murder, or maybe two. A bad romance, or maybe three.







A girl who refuses to give people what they want from her.




A girl who refuses to be the person she once was
* * * *
4 / 5
I wasn't really sure what to expect when I cracked open Genuine Fraud. I haven't read Lockhart's other well received book, We Were Liars, and I haven't read many thrillers or mystery novels. But I was very impressed by Genuine Fraud - it was short, a light 250 pages, and so didn't drag unnecessarily on, it packed a punch, had some weird twists, and really made me work for it. This is not an easy read - my brain really had to work to make sense of what was going on - but it was so worth it.
"she looked the same, looked just like anyone, but she saw the world differently after that. To be a physically powerful woman - it was something"
Jule is an athlete and shrouded in mystery. Her stories about her past constantly change and sound like lies. Imogen is a rich heiress, cheats on her boyfriends, and flighty. On the island of Martha's Vineyard, Jule and Imogen become fast friends having known each other at school. They trade clothes, gossip, and boys until they become so similar it's hard to tell them apart. We open the novel with Jule at a fancy hotel, relaxing on poolsides and benching weights, letting the summer pass her by. From there we move backwards in time, always backwards into the past, to discover how Imogen and Jule and Forrest and Paolo and Brooke are intricately tied together.
It's hard to say what Genuine Fraud is actually about. It's about murder and love and female friendships. It's about an author trying to shock a reader and about a girl who is a little bit psychotic. It's about people not being who you expect them to be, about mistaken identities, and how making one little choice can change your life massively in the space of a year. It's about feminism and action heroes and always thinking that we are right and the centre of our own stories. Reading this book made my head spin with wild theories: is Imogen even real? And so many questions: Who is Jule? What does she want?
the gun felt hot against her back. she was armed. she had no heart to break. like the hero of an action movie, Jule West Williams was the center of the story
If you have read more thrillers than I have, perhaps you won't find the plot particularly surprising. But the delivery, the bizarre and elusive main character, the choice to tell the story back to front, should grab your attention. I read this book in a couple of sittings over two days which meant I was able to pick up on a couple of small details and allusions to things that I think I probably would have missed had I read Genuine Fraud over a longer period of time. That and the emotional disconnect between myself and the characters, who enthralled me but who I was distant from - like watching a cool bug under a microscope - is why this book gets four stars, not five.
Overall, I really loved Genuine Fraud and devoured it. Jule is a great, if morally insane, character; she's wild and mysterious and violent. She is not a good person, but she's an interesting focus of a story.
My thanks to Netgalley, the publisher, and the author for an ARC of Genuine Fraud