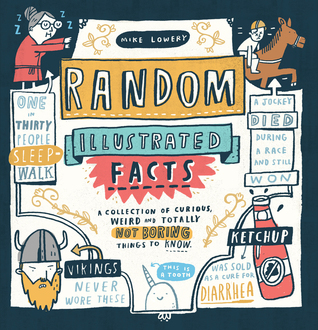 A collection of illustrated trivia unlike any other. From glow-in-the-dark cats to Jupiter's diamond showers to the link between dancing goats and the discovery of coffee, here are up to 100 obscure and fascinating facts brought to life in Mike Lowery's quirky, hilarious style. Each illustrated fact is paired with a handwritten web of related tidbits, recreating an entertaining dive down a trivia rabbit hole.
* * * *
4 / 5
This is an excellent coffee-table sort of book, cram packed with vibrant illustrations and weird and wonderful facts. It's approximately 200 pages long and each page has at least one, but often multiple, fun facts based around a theme. Random Illustrated Facts would make a great gift, but it isn't the kind of thing that I would normally just buy for myself.
The book is split up into sections, so the facts are loosely based around themes: animals, everyday things, history, etc. Whilst I knew a few of these facts - for example, that in 2013 the Mars Rover sang Happy Birthday to itself - there were a lot I didn't know, so it was great to learn a few things. I did look up a couple to confirm their validity, so I'm reasonably confident that the facts in this book are actually true.
Whilst cute, I thought the pages were sometimes a bit too busy
The illustrations are cute and the style is consistent throughout; they're detailed doodles, in full colour, and always related to the facts. I didn't give this book five stars because I thought that some of the pages were overcrowded; some of the colours were too jarring and the writing was sometimes difficult to follow if there were, say, five facts on a page and illustrations for each.
Fun fact!
Overall, this book is gorgeous and the facts are interesting. Like most books of this type, it doesn't have a whole lot of re-reading value, but it was super cool and easy to read.
My thanks to Netgalley, the publisher, and the author for an ARC of this book.