I love a good sequel. More exploration of a world I have grown to love? Meeting my favourite characters again alongside some new ones? The answer to a cliffhanger the last book left me on, or the continuation of a nicely wrapped up standalone? Sign me up! Some sequels are excellent because they are the fifth book in a series I don't want to end (whereas some series ought to have ended long ago), others because they are a nice surprise addition to something I didn't think was going to get a sequel.
Without further ado, in reverse order of I-just-can't-wait-edness, my five most anticipated sequels being published in 2017!
Five
A Crown of Wishes, Roshani Chokshi
The Star-Touched Queen, #2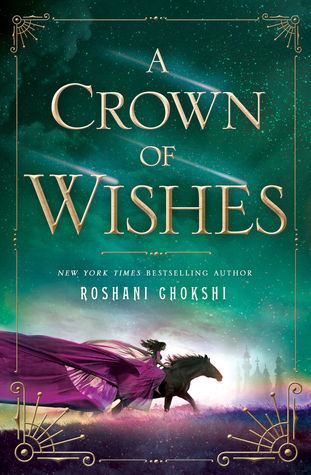 Gauri, the princess of Bharata, has been taken as a prisoner of war by her kingdom's enemies. Faced with a future of exile and scorn, Gauri has nothing left to lose. Hope unexpectedly comes in the form of Vikram, the cunning prince of a neighboring land and her sworn enemy kingdom. Together, they'll have to set aside their differences and team up to win the Tournament of Wishes.
Full disclosure, I haven't actually read the first one - A Star Touched Queen - but I have heard rave reviews. It has a princess and other-worldly realms, Indian mythology, and is rumoured to have the most beautiful prosaic writing. So I'm going to put faith in my fellow book bloggers and believe them that this book is amazing. It doesn't help that the blurb sounds fantastic:
poisonous courtesans and mischievous story birds, a feast of fears and twisted fairy revels
How amazing does that sound? I also love books based around tournaments or competitions, and to boot this book is being marketed as an "unconventional sequel". Please, take my money.


Four
A Court of Wings and Ruin, Sarah J. Maas
A Court of Thorns and Roses, #3
Feyre has returned to the Spring Court, determined to gather information on Tamlin's maneuverings and the invading king threatening to bring Prythian to its knees. But to do so she must play a deadly game of deceit-and one slip may spell doom not only for Feyre, but for her world as well.
Unpopular opinion first. I didn't like a Throne of Glass and so never picked up any of the sequels. Apparently they get better, but I don't really care enough to find out. Someone give me a good reason, because I loved Maas' writing in the A Court of Thorns and Roses series. The first book was okay - I like the main character, Feyre, I like fairy tale retellings, Tamlin rubbed me the wrong way a bit but that was easily overlooked. I picked up the second book, A Court of Mist and Fury, and .... damn.
So much better. Miles ahead of the first book. The world building was phenomenal. The writing (bar the sex scenes which are still ridiculous) is bold. I admire Maas for having the guts to break up a relationship that was a fan-favourite and giving a good, and textually obvious, reason why. The plethora of new, engaging characters. And my god, the cliffhanger at the end! Wow. Lots of reasons to be looking forward to this sequel.
Three
A Closed and Common Orbit, Becky Chambers
Wayfarers, #2
Lovelace was once merely a ship's artificial intelligence.

Together, Pepper and Lovey will discover that no matter how vast space is, two people can fill it together.
Now, this choice is sort of a cheat. I admit it - it was published last year (December I believe) but I'm too cheap to afford the hardback. Also I have the first one in paperback and I like my sets to match, sue me. The paperback of this is available in June.
The first thing I must massively applaud Becky Chambers on is her titles! Wayfarers! The very long was to a small angry planet! A closed and common orbit! I love them all like the children I don't have. I was purely convinced to pick up the first book based solely off of the gorgeous cover and the title. The first book was pure, glorious sci-fi. A young woman, Rosemary Harper, joins a rag-tag crew running an intergalactic ship. It's character driven and boy are the characters wonderful - a particular highlight is an inter-species relationship between Rosemary and her crew mate, which I thought was beautifully explored (Sissix & Rosemary for life).
This sequel is moving away from Rosemary to focus on Lovelace, an AI system that has recently been wiped and has forgotten who she had grown to become. It was a seriously heartrending scene. Lovelace is joined by mysterious, spunky, and excitable engineer Pepper.
Two
A Conjuring of Light, V. E. Schwab
Shades of Magic, #2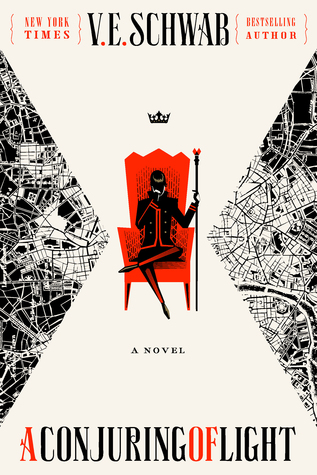 London's fall and kingdoms rise while darkness sweeps the Maresh Empire—and the fraught balance of magic blossoms into dangerous territory while heroes and foes struggle alike.
Four Londons. A moronic monarchy. A competition. Dangerous dimension hopping.
Kell. Dimensional traveller. Magician. Ambassador to the Maresh Empire. Smuggler.
Delilah Bard. Thief. Badass. Pirate. Universally adored.
This series has got it all. Blood, guts and gore. Stabby stabby, swashbuckling pirate women (my favourite kind of woman). Banter (but not cringeworthy). Beautiful character development. I often find Schwab's books hard to describe to other people, and normally resort to going "magic, swords, pirates" whilst flailing my arms around. But do not be deceived, they are solid, innovative, and original books. I will be rereading the previous books soon (before #3 comes out) because it has honestly been too long, so I will be publishing reviews of the first two books when I do this.
Schwab writes beautifully. As you might have noticed, I'm a sucker for beautifully written books. Note: this does not mean they read like some kind of Tumblr poetry, or are cringeworthy. I mean books that flow, that make you want to get your pen out and underline every other sentence because it just sounds great.
"Politics is a dance until the moment it becomes a war. And we control the music."
If Schwab pulls another book like A Gathering of Shadows out of the bag, then I will recommend it to everyone I meet.
Aaaaand, finally, my most anticipated sequel of 2017:
Assassin's Fate, Robin Hobb
The Fitz and The Fool, #3



Their mission for revenge will become a voyage of discovery, as well as of reunions, transformations and heartrending shocks. Startling answers to old mysteries are revealed.
These books are tragically under-read. I write this with all sincerity. Assassin's Fate is the third in The Fitz and the Fool series, which is the third trilogy following Fitzchivalry Farseer, bastard son of a prince and his childhood friend, and mysterious individual, The Fool. And it will make me cry. Fitzchivalry Farseer, having spent years and two trilogies in service to the crown, has retired to his home with his wife and her children. He becomes, finally, Tom Badgerlock once more. He puts down his duty. But duty can never truly be abandoned and his old life comes calling.
Hobb has spent years and years, books upon books crafting this world. There are two more series (The Liveship Traders & The Rain Wild Chronicles) set in the Realm of the Elderlings and they are all wonderful (with the exception of the Soldier Son series, which is a bit naff). The first trilogy begins as fairly standard fantasy fiction. There a kingdom with a dying king, a terrible son, and a prince who fathered a bastard. Fitzchivalry Farseer. Then. And then. There are dragons, men who are part god and part dragon, a man who you aren't really sure is a man after all, ships with talking figureheads, migrating serpents, pirates, an order of religious fanatics. And Nighteyes. Oh Nighteyes - the faithful animal companion who forms the triad at the heart of the series:
a man, a wolf and a fool. Once, these three were inseparable friends: Fitz, Nighteyes and the Fool.
If I recommend nothing else to people that like fantasy, I recommend that you pick up Assassin's Apprentice. I myself am anxiously awaiting with bated breath the final instalment of The Fitz and the Fool trilogy. There will be tears.
What is your most anticipated sequel of 2017?