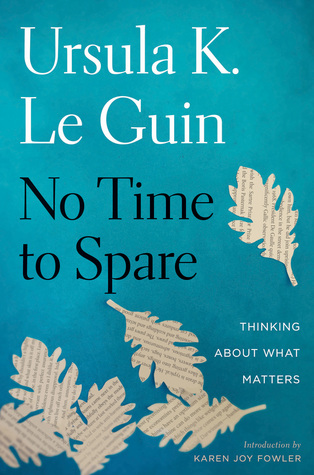 "If I'm ninety and believe I'm forty-five, I'm headed for a very bad time trying to get out of the bathtub"
Ursula K. Le Guin has taken readers to imaginary worlds for decades. Now she's in the last great frontier of life, old age, and exploring new literary territory: the blog, a forum where her voice—sharp, witty, as compassionate as it is critical—shines.

No Time to Spare

collects the best of Ursula's blog, presenting perfectly crystallized dispatches on what matters to her now, her concerns with this world, and her wonder at it.
* * * *
4 / 5
I started reading No Time to Spare on the 28th of December, intending to consume it's collection of short essays leisurely. Unfortunately, partway through the title became somewhat prophetic as the author sadly passed away. As a child I loved and devoured Le Guin's Earthsea Quartet and as an adult I have read some of her more adult works such as The Word for World is Forest; she was a writer who was very dear to my heart and the thought of reading (what I believe to be) her last published book was rather upsetting, so I put it down for a while.
Actually, I don't exactly have expectations. I have hopes, and fears. Mostly the fears predominate these days.
The essays inside are, I believe, drawn from her blog and personal writings. They are varied in nature: musings on age, on time, on her cat, on her life as a writer and in general, on politics, and on human nature. Some of these, particularly the ones on age and the passing of time, were recast in different light and became more emotional for me after her passing.
When all the time you have is spare, is free, what do you make of it?
Her character really shines through the thoughtful words written here, her wit, her passion for writing and for life, her love for her family and for her cat. Some of them I did find of little interest to me - perhaps this was because of my younger age, or my not being American - and whilst her cat sounded lovely and adorable, I didn't really need to know all that much about him! However I did find the vast, vast majority of this collection to be insightful, witty, and fascinating.
Le Guin's writings affected my past and I am sure as I read more they will change who I am in the future. No Time To Spare is no exception. Rest in peace, Ursula K. Le Guin.
My thanks to Netgalley, the publisher, and the author for an ARC of this book.