Five ARCs I Was Thrilled To Get
Or, Five Books That I Put My Grubby Hands All Over Instantly


The general advice from the seasoned ARC receiving and reviewing community is to only request books that you would actually buy. This is good advice. Unfortunately, I don't always follow it (but I do always read all of my ARCs!) and just request books that look kinda cool or just interesting. So, sometimes, when that approval email comes through my reaction is a bit oh that's nice.
But sometimes I see books on Netgalley that I'm absolutely dying to get - sequels to books that I loved, new works by an author I love, or even just books that I've seen hyped up on Goodreads or Instagram. When those emails come through there's a bit of tension as I'm waiting for the email to load, and if it's an approval I might do a little dance. There's certainly a broad smile going on as I hit download.
So which ARCs have I received that I was absolutely thrilled about (before I read them, at any rate) and why?
Assassin's Fate (Fitz and the Fool #3)
Robin Hobb
Review



Prince FitzChivalry Farseer's daughter Bee was violently abducted from Withywoods by Servants of the Four in their search for the Unexpected Son, foretold to wield great power. With Fitz in pursuit, the Servants fled through a Skill-pillar, leaving no trace. It seems certain that they and their young hostage have perished in the Skill-river.

Robin Hobb's The Realm of the Elderlings series is my genuine favourite set of books for a variety of reasons and Assassin's Fate is the last. So when the email came through I was absolutely delighted. It saved me £12 on the Kindle copy (I'm still getting a paperback - I own all 16 books on Kindle and paperback) and by getting an ARC I would definitely not read spoilers by mistake.

I was in a bar after training when I got the approval, so I went and had a couple of drinks to celebrate ;)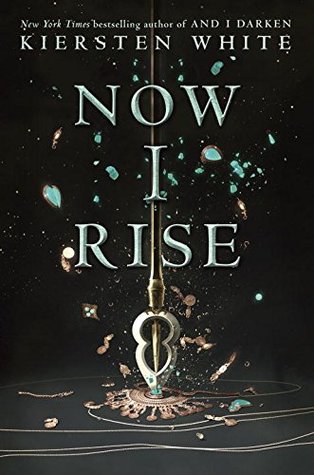 Now I Rise (Conqueror's Saga #2)
Kiersten White
Review
Lada Dracul has no allies. No throne. All she has is what she's always had: herself. After failing to secure the Wallachian throne, Lada is out to punish anyone who dares to cross her blood-strewn path. Filled with a white-hot rage, she storms the countryside with her men, accompanied by her childhood friend Bogdan, terrorizing the land.
I had a bit of a topsy-turvy journey with this one. The US edition (that gorgeous cover you see up there) was up on Netgalley months before the UK edition, so I thought I'd try my luck. Got rejected -
no worries,
I thought,
I'll just buy it
. I'll probably end up buying it anyway so I can have one to match And I Darken. But then the UK edition (hideous cover) went up on Netgalley and I got approved for that one!
I absolutely loved And I Darken with wild, brutal and tempestuous Lada Dracul, her brother Radu, and their friend and superior Mehmed. It's a great historical fantasy that I really recommend for those that love their books to be a touch more gritty.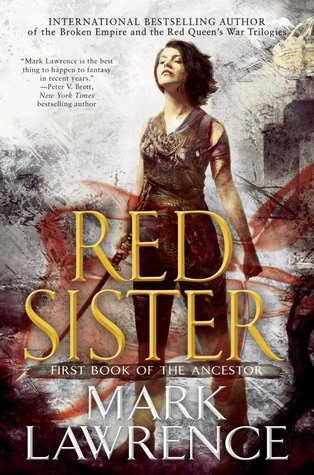 Red Sister (Book of the Ancestor #1)
Mark Lawrence
Review
At the Convent of Sweet Mercy young girls are raised to be killers. In a few the old bloods show, gifting talents rarely seen since the tribes beached their ships on Abeth. Sweet Mercy hones its novices' skills to deadly effect: it takes ten years to educate a Red Sister in the ways of blade and fist.
Mark Lawrence is a big name in gritty fantasy fiction and Red Sister was one of my first ARC approvals where I was all
wow, I actually recognise that author, this is a big deal, woah,
instead of reviewing good books, but relatively unknown books. Red Sister is something I definitely would have bought for myself as well, and it ended up being an absolutely amazing read to boot!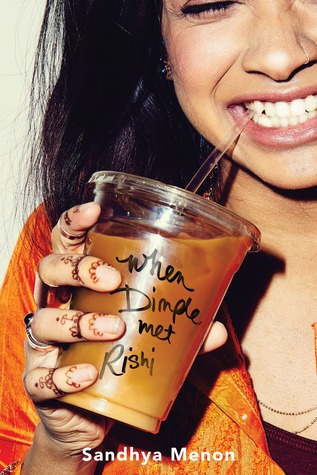 When Dimple Met Rishi
Sandhya Menon
Dimple Shah has it all figured out. With graduation behind her, she's more than ready for a break from her family, from Mamma's inexplicable obsession with her finding the "Ideal Indian Husband." Ugh. Dimple knows they must respect her principles on some level, though. If they truly believed she needed a husband right now, they wouldn't have paid for her to attend a summer program for aspiring web developers…right?
I was seeing When Dimple Met Rishi all over my Goodreads feed at one point. Like, it was everywhere among the ARC crowd. I was sold on it by the gorgeous cover and the coding/web app development premise. It's a cute and adorable Indian-American romance where Dimple doesn't know that Rishi, the boy she meets at a summer coding camp, is her arranged husband.
Unfortunately, YA romance and I are simply not to be. Not enough actual coding going on here and the sideplots were bizarre. So whilst I didn't rate this book that highly in the end (3.5 stars), I did enjoy it and would absolutely recommend it to a romance fan. But When Dimple Met Rishi was the first ARC I got that was really hyped up on my Goodreads feed.
Strawberry Summer
Melissa Brayden
Review
Margaret hasn't seen Courtney in years and that's for the best. But when Courtney loses her father and returns to Tanner Peak to take control of the family store, Margaret comes face-to-face with her past and the woman she's tried desperately to forget. The fact that Courtney has grown up more beautiful than ever certainly doesn't help matters.
Contrary to everything I just said about romances, I absolutely adored Strawberry Summer, a lesbian romance. Perhaps it was because this was firmly an adult novel, maybe because it was just romance and didn't venture into anything else, but I was thrilled to get an ARC of this simply because I have a very small collection of lesbian romances even though I really enjoy them. Part of it is because I felt awkward buying them when I lived at home, partly because I find it difficult to find the kind I like: adult but not pure smut.
Either way, Strawberry Summer was an amazing book and I am so pleased that it introduced me to Melissa Brayden's work.
What ARCs have you got that just made you want to drop everything to read them?