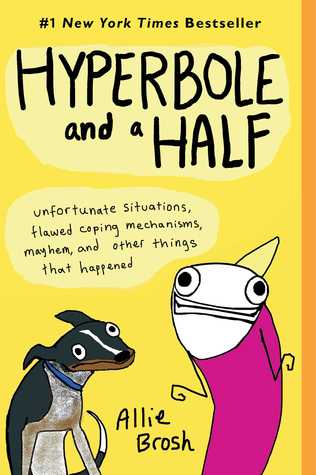 "I had tasted cake and there was no going back. My tiny body had morphed into a writhing mass of pure tenacity encased in a layer of desperation. I would eat all of the cake or I would evaporate from the sheer power of my desire to eat it."
This is a book I wrote. Because I wrote it, I had to figure out what to put on the back cover to explain what it is. I tried to write a long, third-person summary that would imply how great the book is and also sound vaguely authoritative--like maybe someone who isn't me wrote it--but I soon discovered that I'm not sneaky enough to pull it off convincingly.

* * * * *
5 / 5


Hyperbole and a Half has been on my Amazon wishlist for over a year, but I never got around to buying it. And then. AND THEN. I saw it in my local charity book shop for ONE WHOLE POUND, so obviously I bought it. And what a glorious, heartfelt, hilarious experience I had. If you haven't read her comics before (I believe they are all on her website), I absolutely 100% recommend this.
Essentially, Brosh's work is a collection of charmingly horrible MS Paint drawings accompanied by text. Despite being of questionable artistic quality, Brosh actually conveys a lot of emotion and her dog drawings are equal parts hilarious and relatable for any dog owner.
There are eighteen stories and they range between childhood recollections, stories about her dogs, introspective essays, and a difficult but important look at her depression. In terms of sheer humour, the dog ones (featuring simple dog and helper dog) were my favourites; they're instantly relatable for anyone who has a misbehaving dog and have really cute drawings. I also finally saw the origin of the meme "ALL THE THINGS". What a dive into internet history. Cultural exploration, it's here kids.
Her two essays at the very end of the back, called "Identity, parts one and two", are a personal insight into the author and they are so honest and
genuine
it made me a touch tearful. I imagine most people have done "good" things not because they are a good person, but because they want to seem like one. It takes a lot of guts to admit something like that, let alone write a humorous pictorial essay about it and publish it online/in a book. Likewise, the ones about depression are so incredibly personal yet so important.
This is a surprisingly hefty book, clocking in at about 370 pages. The pages are vibrant and the paper is decent quality; I don't really have a bad word about this book, other than be aware that there is a reasonable amount of swearing and it deals with some serious topics, if you plan on giving this to a child.
I will conclude with a picture of my favourite two panels in the book and a hearty endorsement of Hyperbole and a Half: if you see it somewhere, buy it. It's a gem.
I'm really not sure why this is funny, it simply is.