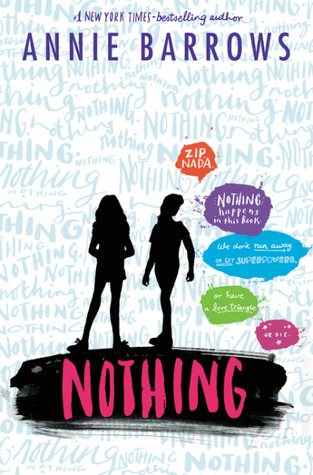 I have no individuality. I'm a prisoner of my context
Nothing ever happens to Charlotte and Frankie. Their lives are nothing like the lives of the girls they read about in their YA novels. They just go to high school and live at home with their parents, who are pretty normal, all things considered. But when Charlotte decides to write down everything that happens during their sophomore year to prove that nothing happens and there is no plot or character development in real life, she's surprised to find that being fifteen isn't as boring as she thought. It's weird, heartbreaking, silly, and complicated. And maybe, just perfect.
*  
1 / 5
When you pick up a book entitled "Nothing", which on the back proclaims to be about two girls to whom nothing ever happens, you probably ought not to be too upset when that's exactly what you get: a book about nothing. It's not like it was trying to hide it, right? But when I put this book down, I was still a bit disappointed to reflect and realise that that was exactly what I had got.